Music and Performance Production
Listening to "Hunter"
Playing to a packed house at Nashua's only replica ship/bar/venue in a hotel combo, Hunter Stamas, lead singer of Hunter and her band played an album release show to remember. Between getting the lead singer of Prospect Hill to introduce, a heavy light rig, a smashed guitar and an enthusiastic hometown crowd, Hunter did a great job of sending her new music out to the fanfare it deserves.
Back in the studio with "Gunsmoke"
After their successful run of studio videos last year, Windwood is once again in the Studio with Connecticut's favorite classic country western band, "Gunsmoke." With a loyal fanbase and a multi-generational history spanning over 30 years, Gunsmoke's presence on facebook continues to grow with their popular "in the studio" videos, and Windwood couldn't be happier to help! Until the series drops, here's a look at our time with Gunsmoke at their popular summer show at the Levitt Pavilion in Westport, Connecticut. www.gunsmokeband.com
People Skills at Fury's Publick House
Downtown Dover, People Skills plays to a packed house of hometown fans at Fury's. This was a great show with a ton of crowd energy! Excited to hopefully see PS back in Concord at Summer in the Square! We'll be posting more videos from the series as they release them!
January 2018 Shooting Hunter
While filming at Fury's Publick House for our friends People Skills, I was able to grab some stills of Nashua favorites Hunter, who's upcoming album is due to be released at the Bounty in Nashua in April! We'll be there camera's blazing! Check out Hunter's stuff at www.huntertheband.com
Yawping with "The Yawpers"
While spending some time with our friends Clever Girls in Burlington, we recently had the chance to see the Denver based band "The Yawpers" consisting of singer Nate Cook, with Jesse Parmet and Noah Shomberg. In a funny turn of events, while editing the photos and doing a bit of research on the band, it turns out their song "Burdens" had been looping for the past few months on our 'discovered from discovered' playlist on spotify! Definitely listen to burdens if you get a chance - check them out at www.theyawpers.com
August 2017 - Summer in the Square with The Opined Few
Back for another beautiful Friday Night in Concord, New Hampshire, True Brew Barista and Cafe hosted another fun and folky Summer in the Square evening with our friends The Opined Few and Miketon and the Nightblinders.
July 21 - Summer in the Square with People Skills
Hosted by True Brew Barista and Café Friday nights in Bicentennial Square in Concord, NH, Summer in the Square got off to quite the start with Concord and Seacoast based People Skills, the trio of Chelsea Paolini (Guitar/vocals) Eric Reingold (Bass/vocals) and Andrew Paolini (drums) entertained crowds well into the night with incredible guitar riffs and catchy alt-rock/rock/punk tunes. Be sure to check out their third studio recorded album "Distractions" which is debuting in early August!
April 23rd - Windwood is on "the Job"with NAshville's Turquoise Willy.
While filming the official event coverage of the first annual "Hero's cup," a 3-day event and hockey tournament held in Marlboro, MA to honor first responders, Windwood had the privilege of filming the band "Turquoise Willy" known for their popular anthem "The Job." www.thejobsong.com
April 29th - Catching Clever girls at the Monkey house
Windwood was back filming Burlington based band Clever Girls as they had a release party at the Monkey House for their EP, Loose Tooth. There were also awesome performances by Adam Wolf, Canyon King, and Tyler Daniel Bean - Here's the title track from loose tooth.
Finishing the Clever Girls Music Video Series with Dumb Smile
Here it is!! Rounding out the tracks from their upcoming album "Luck" our third music video for Burlington based Clever Girls! Dumb Smile is more of a traditional music video in that we actually had a moment to set the band up in a space and lay down some tracks specifically for the video. I'll keep everyone posted on when/where the video premieres on their end!
Noche Latina 2017 at the autorino center for performing arts
Windwood was thrilled to be invited to film "Noche Latina" at the Autorino Center with our friends at Burning Sun Films! Founded by local artist and Hartford resident Carlos Hernández-Chávez, in 1992, Tierra Mestiza performs traditional music of Latin America and the Caribbean from the 1930s–1950s. This popular musical ensemble had a loyal following in the Hartford area until the band retired from regular performances in 2013. This October come and enjoy Tierra Mestiza Returns—featuring original band members and new musicians—at our annual Noche Latina event!
Clever Series
We're back to work filming the third and final video in our series of releases for Clever Girl's upcoming album "Luck" While Catch and Release has been... well... caught, and released - "Loom" is premiering this Wednesday, with Dumb Smile following shortly!
Catching Clever girls "Catch and Release" at Converse rubber tracks
Windwood headed down to the Converse Headquarters on Boston, MA to film a studio session with Burlington based "Clever Girls." The footage from the studio session was edited for their official studio video for the song "Catch and Release" www.clevergirlsmusic.com
JUly 29th - NHTunes instructor profile Videos
Windwood is thrilled to be helping Manchester based NHTunes film a series of Instructor profile videos to highlight some of their strengths and accomplishments, helping prospective students match with the teacher that they think best matches with the music they'd like to learn. This series will eventually feature 7 instructors.
April 30th - A few more with the opined few
We had a chance to record the Opined Few's whole set, which ended up pushing about 3 hours! We will be releasing media over the next couple months, but for now here are three more of their songs from the Granite Roots Brewing relaunch.
May 25th - "What You're Worried About" with Ryan Thomas in the Boston Common
Boston based singer/songwriter Ryan Thomas asked for a realistic look at his usual routine at his Boston Common busking spot. Over three hours of playing, we were able to repeat his original "What you're worried about" several times throughout his set of Bob Dylan, Bruce Springsteen, and various Beatles favorites, getting the audio on location, and layering 8 different takes of the song. Next time you're in the Common, keep your eyes out for Ryan!
May 15th - Update on turquoise willie at the hero's cup
It's not often that a great event, benefiting a great cause, has great tunes to back it up! Windwood is thrilled that Nashville based recording artists, Turquoise Willie, who headlined the Hero's Cup, is the backing track to our official event video! Check out their song "Ten Hole Soul" and the official event video below.
April 30th - Helping granite roots brewing kick off a re-launch with the opined few
Windwood was in Troy, New Hampshire this Sunday to help Granite Roots Brewing film their official re-launch party! The Opined Few provided the tunes for the pitch-perfect occasion. Not only did we have a great time capturing the event, but we also got a few tracks from the band which we will be releasing in the upcoming weeks!
April 24, 2017 Into the woods goes for 5k
Windwood's production of the Pine Street Player's "Into the Woods" facebook promotion is almost at 5,000 organic views on facebook! We are proud of the fact that the Exeter, New Hampshire community has rallied around this video, with over 50 shares and a number of awesome comments, the ticket sales for this special production have seen an increase since the promotion dropped in Mid-April!
Living the High life with Patrick Okwe Osedebe
We recently had a great time in Hartford Connecticut with Burning Sun Films helping film Chief Patrick Okwy Osadebe And His Highlife Band International. http://www.okwyosadebe.com/
Filming comply
Windwood recently had the opportunity to assist Burning Sun films' in filming the powerful original drama "Comply." for Hartford, Connecticut based theatre company "Hartbeat Ensemble"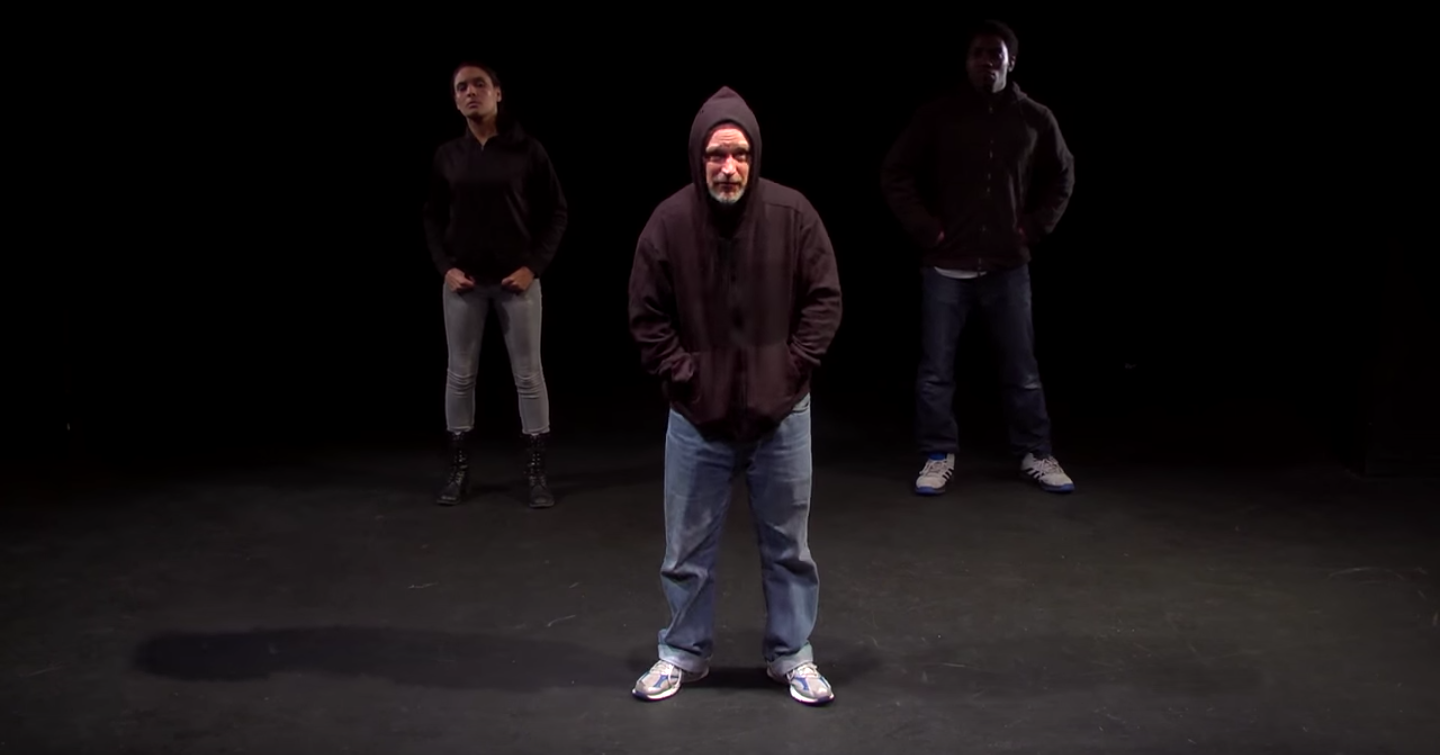 Jeff McQuillan and friends
Windwood took a trip down to Connecticut to film Jeff McQuillan and Marc Tucciarone with our friends at Burning Sun Films